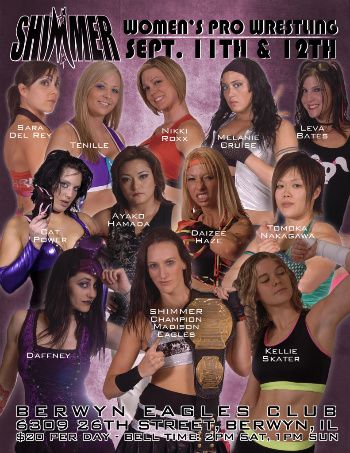 SHIMMER Women Athletes returns to Berwyn Eagles Club (6309 26th Street) in Berwyn, IL on Saturday & Sunday, September 11th & 12th, 2010. Volumes 33-36 of the SHIMMER DVD series will be filmed over the course of the weekend. Bell time on Saturday, September 11th is 2pm. Bell time on Sunday, September 12th is 1pm.

Front row seating to the tapings is sold out. General admission seating is still available, at a cost of $20 per day. You can purchase your tickets by using the PayPal buttons below right now. Once we reach venue capacity, we must turn away any fans looking to purchase last minute tickets at the door on the day of each show. Purchasing your tickets in advance is the only way to guarantee seating for the tapings, so be sure to get them in advance if you plan on attending.

Announced thus far for participation in the tapings are: SHIMMER Champion Madison Eagles, SHIMMER Tag Team Champions The Canadian Ninjas, Cheerleader Melissa, Sara Del Rey, Ayako Hamada, MsChif, Ayumi Kurihara, Daizee Haze, Nikki Roxx, Daffney, Jessie McKay, Tomoka Nakagawa, Misaki Ohata, Kellie Skater, Allison Danger, Mercedes Martinez (9/12 only), Amazing Kong (9/12 only), Melanie Cruise, Tenille, Jamilia Craft, Rachel Summerlyn, Jessica James, Leva Bates, Nevaeh, Cat Power, and Ariel. Plus Mia Yim and Athena have been announced for the SPARKLE (pre-show) matches. Over 25 of the top female wrestlers from around the world will be a part of the action!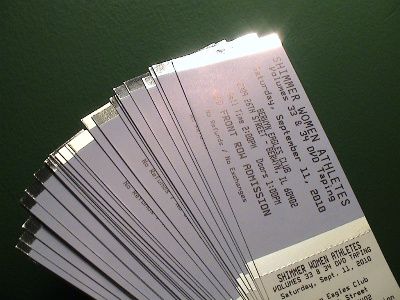 General admission tickets are available at a cost of $20 per day, plus $1 shipping. You can order GA tickets right now using the PayPal buttons below. Your tickets will be mailed to you. If they are purchased with too little time prior to the events, they will be held for you at the door under your name.
You can also place a mail order for tickets using a money order. E-mail shimmernews@yahoo.com for mail order instructions.
See everyone in Berwyn on Sept. 11th & 12th!